Messages

489
Location
Grill(s) owned

Trailblazer
So, I like pulled pork, but I have been making it off and on now for quite some time. I decided to try making it for sliced pork steaks. After looking around various sites and seeing a Malcom video on de-boning the butt, I decided to take the task on. I got an 8.25 lb Smithfield butt that looked really nice.
Not very much fat and or fat cap to have to trim away. Removing the blade wasn't all that bad and I didn't leave very much meat left on the bone (1st time attempt). With the blade removed, I was able to apply some SPG to the cavity, maybe this will assist in holding things together, as the salt breaks down the protein. I want to keep the flavor neutral, at least during this phase, so nothing but a mustard rub and SPG. I ended up not having much string to work with, but was too lazy to go out and get more.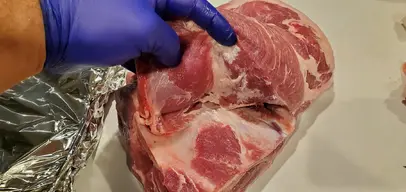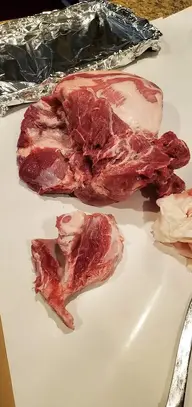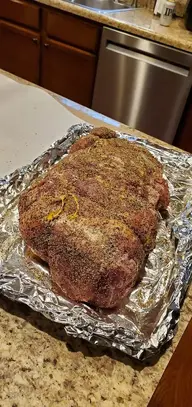 The plan is to toss on the RT at 6am tomorrow at 225. Then at the stall, instead of wrapping with paper, I will put in a foil container with some apple juice and cook out to an IT of around 190ish. I'm then going to inject with the reserved liquid in the tin, wrap up tight inside a cooking bag and put in the fridge overnight. Then on Friday, I am hoping to be able to cut into 3/4" or so steaks, apply some rub and either toss on my gasser with grill grates, back on the RT at high temp, or on the Blackstone. I guess it depends on how well the slices hold up at that point.
I'm open to any suggestions from anyone that may have done something similar. Otherwise more postings and photos to come tomorrow.