Messages

67
Location
Grill(s) owned

Bull
I will start out with saying they did not suck! Easy to make and not to hard on the eyes when plated up.
1.5 pounds ground elk (10% beef fat)
1 egg
1 tbs Worcestershire sauce
1 heaping tbs organic bread crumbs
3 tbs of dried onion
1 tbs stone ground mustard
1/2 tsp "Bens Heffer dust"
Cracked pepper
Mix and make into thick burger patties then make cups in the middle of the burger to hold the yummy contents.
Half an onion coarsely chopped
3 garlic cloves coarsely chopped
3 pieces of thick cooked bacon coarsely chopped
Saute' onions until caramelized and add garlic and bacon at the end.
Independently grill/char a pasilla chili - rest peel/seed and set aside.
Turn the grill on low/smoke and bring up to temp (180º)
Fill the burger cups with the onion/garic/bacon mix and season with "Boars Night Out" White Lighting garlic butter dust
Put on the smoker for 25 minutes then bring the grill up to 500º until burgers read 145º.
Slap some sharp cheddar and American cheese until melted
Serve on toasted brioche buns with the pasilla chili and condiments.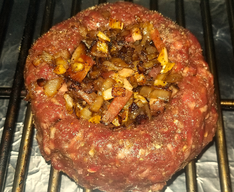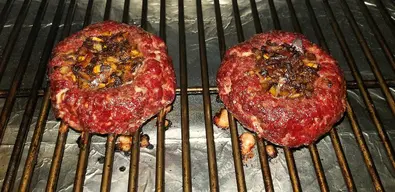 Last edited: