Well-known member
Military Veteran
Messages

113
Location
Grill(s) owned

Bull
Trailblazer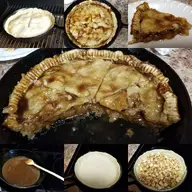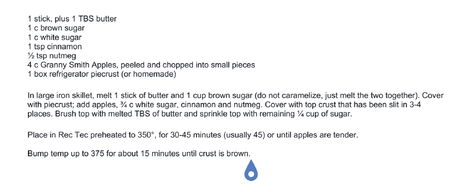 Ingredients
1 stick, plus 1 TBS butter
1 cup brown sugar
1 cup white sugar
1 tsp cinnamon
1/2 tsp nutmeg
4 cups Granny Smith Apples, peeled and chopped into small pieces
1 box refrigerator piecrust (or homemade)
Instructions
In a large iron skillet, melt 1 stick of butter and 1 cup brown sugar (do not caramelize, just melt the two together). Cover with piecrust, add apples, 3/4 c white sugar, cinnamon and nutmeg. Cover with top crust that has been slit in 3-4 places. Brush top with melted tablespoon of butter and sprinkle top with remaining 1/4 cup of sugar.
Place in Rec Tec preheated to 350 degrees, for 30-45 minutes or until apples are tender.
Bump temp up to 375 for about 15 minutes until crust is brown.
This was amazing!