Kind of good admin
Staff member
Messages

1,706
Location
Grill(s) owned

Bull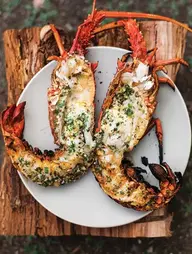 INGREDIENTS:
2, 2lb. lobsters
1lb. blue crab meat
2oz butter
1/2 cup onion, diced
1/2 cup celery, diced
1 tsp garlic, chopped
1 tbsp Dijon mustard
1 tbsp Old Bay seasoning
1-2 tbsp mayonnaise
1 egg
1/4-1/2 cup Italian bread crumbs
INSTRUCTIONS:
Heat Rec Tec grill to 400°F, with a cast-iron skillet.
Add the butter, onion, celery, and garlic and cook until the vegetables are translucent (about 7-8 minutes).
Add the cooked vegetable mixture to a large mixing bowl and add remaining ingredients.
Mix gently as to avoid breaking up the lumps of crab.
Cut the lobsters in half and clean out the cavity.
Fill with the crab mixture and cook on the RecTec grill for 20-25 minutes until the lobster is cooked and the crab stuffing is hot.